Quick questions
Purchase Premium subscription for new domain mailboxes or renew the Premium subscription for current domain mailboxes can:
the users who own a domain (using domain mailbox);
domain email administrators (using admin section).
If you are purchasing the Premium subscription for the first time, you can choose the number of mailboxes you need. Minimum: 1 mailbox with payment for 1 or 3 years.
If you already have a Premium subscription, you have the following options:
renew the Premium subscription for all created domain mailboxes that exist;
purchase a new Premium subscription for a certain number of mailboxes. However, in this case, an adjustment regarding the validity periods of your current Premium subscription and of the new Premium subscription will be carried out.

You cannot purchase a new Premium subscription for a longer period of time than the validity period of the current one

. The price will be calculated depending on the number of days remaining until the end of the validity period of the current Premium subscription.
---
The Inbox.eu portal offers two email service options: Personal or Business.
Business email ("Business") is a mailbox, in the name of which your domain name will be used, for example, info@yourdomain.com.
This mailbox can be created and used by any internet user who is a domain owner. Therefore, this email type is also called "domain email".
To use a domain mailbox in the inbox.eu system, you need to complete the registration process. Use one Inbox.eu account to manage all your domain mailboxes. After registration add other domain in admin section.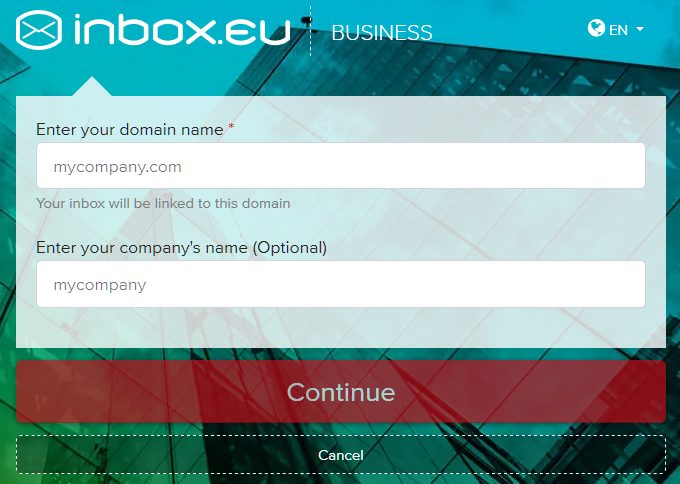 Attention! In the case that you cannot register your domain name due to the fact that it was previously registered in the Inbox.eu system by someone else or for some other reason, please contact our technical support service for help.
Immediately after registration, you can enter your domain email administration panel, where you need to validate the domain name (to confirm that you are the owner of your domain name).
4 ways of validation are available (DNS, MX, TXT, HTML). Read more
After successful validation, you will be able to come up with the name of the first mailbox, which has your domain name, and to create your first mailbox with your domain name. For example, support@mydomain.com
After successful domain validation, we offer 30-day trial period. During the trial period no credit card is required.
During Trial period you will get your emails, however you must validate your phone number to enable outgoing e-mail functionality.
As part of anti-spam protection, the trial version allows you to send no more than 3 emails per day. To remove the limit and enable other features, you must activate Premium version for each domain mailbox. Read more
---
About Inbox.eu
Prezentation - download
https://help.inbox.eu/uimg/about_inbox.eu_en.pdf
Mail size
100 GB for each mailbox with your domain name. In case you need even more space for your letters - write to us at support@inbox.eu.
Work through Outlook
The ability to safely work with mail through any email program on your computer or phone. Connection via POP3 or IMAP through a specially generated password.
Domain name
Inbox.eu offers mail for any domain name. It doesn't matter where your domain was registered and with what extension or name. Some popular resources for domain registration: nic.lv (.lv), godaddy (.info, .com), www.mozello.com/ (.com, .info, .org, .lt, .lv, etc. )
Number of Mailboxes
You can create an unlimited number of mailboxes with your domain name, as much as necessary for your convenient work.
Trial & Premium mailbox
Domain name validation is required. After successful validation, create a mailbox to continue with trial period. To enable all inbox.eu features, you must subscribe to Premium version.
| | | |
| --- | --- | --- |
| | Business Trial | Business Premium |
| Mailbox quota | 100 GB | 100 GB |
| Pop3/Imap | no | available |
| Valided mobile phone | required | no required |
| Smtp | no | available |
| Email sending | 3 letter per day | unlimited |
| Forward of email | 3 letter per day | unlimited |
Web Mail Availability
Modern design when working with the web version - support for color themes, 9 interface languages ​​(latvia, russian, english, spain, bengali, punjabi, indonesian), transfer large files up to 1.5 GB, support for relativity when working on the most popular browsers, customizable personal filters, redirects and signatures.
Saving your resources
You pay only 9.99 euros per year and round-the-clock technical support of mail is provided by the Inbox.eu professional IT team - protection against spam and viruses, hardware & software support, answers to your various questions and fixing any unexpected problem at any time of the day.
Sending letters without restrictions
No limits on sending a large number of letters - invoices to customers, sending out promotional materials to your partners, or simply when working with a large stream of letters, all your letters will be sent immediately without any restrictions.
Mobile application
We offer a separate mobile application for working with email on Andorid / iOs phones. Multi-account support, new mail notifications, contact synchronization and other necessary functions for convenient and fast mail handling via mobile phone or tablet.
Privacy of your data
We guarantee the security of your data. We do not store or pass on your personal information to third parties, either government agencies or advertisers. You have the right to delete all your data at any time in accordance with the General Data Protection Regulation (GDPR).
File storage service
10 GB for storing personal files and 100 GB of space for storing your shared files between all users of your domain mail. Store any file up to 1.5 GB on the cloud - no time limits!
2-step verification
Extra protection for any of your domain mailboxes with a connected mobile phone.
Access to Aliases
You can pay only for one mailbox, but use 5 more aliases for free. All mails sent to the specified aliases will go to your main mailbox. Aliases works without any time limits.
Simple domain administration interface
A simple and convenient web interface for managing domain mail - creating users / mailboxes, paying for business mail, viewing bills and adding a logo. Just the most important things.
Calendars and contacts
Access to a simple scheduler and contact storage system. Ability to synchronize calendar and contacts via mobile phone using the mobile application inbox.eu.
Always active mailboxes
Even if you don't use any of the created domain mailboxes for more than 9 months, they always will be active and ready to receive any mail at any time. The status of the mailbox will never change.
Help in transferring mail to Inbox.eu
We will help you transfer your existing mail to us simply, quickly and at a time convenient for you! Write to us at support@inbox.eu and our technical support will help you with all the issues related to the migration of your users and letters.
---