Business inbox registration
---
The Inbox.eu portal offers two email service options: Personal or Business.
Business email ("Business") is a mailbox, in the name of which your domain name will be used, for example, info@yourdomain.com.
This mailbox can be created and used by any internet user who is a domain owner. Therefore, this email type is also called "domain email".
To use a domain mailbox in the inbox.eu system, you need to complete the registration process. Use one Inbox.eu account to manage all your domain mailboxes. After registration add other domain in admin section.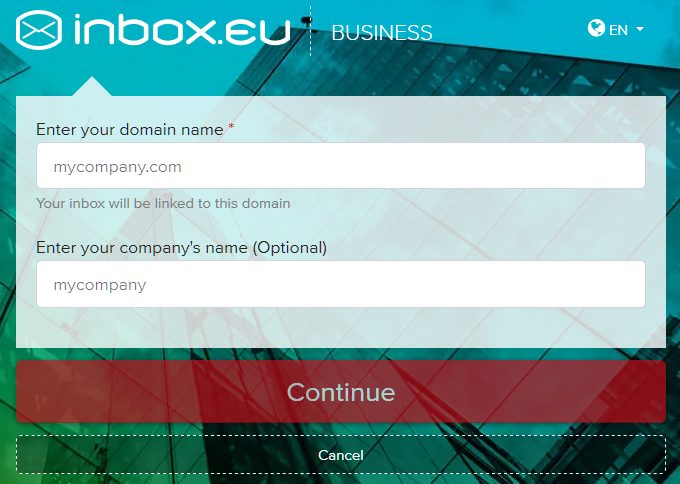 Attention! In the case that you cannot register your domain name due to the fact that it was previously registered in the Inbox.eu system by someone else or for some other reason, please contact our technical support service for help.
Immediately after registration, you can enter your domain email administration panel, where you need to validate the domain name (to confirm that you are the owner of your domain name).
4 ways of validation are available (DNS, MX, TXT, HTML). Read more
After successful validation, you will be able to come up with the name of the first mailbox, which has your domain name, and to create your first mailbox with your domain name. For example, support@mydomain.com
After successful domain validation, we offer 30-day trial period. During the trial period no credit card is required.
During Trial period you will get your emails, however you must validate your phone number to enable outgoing e-mail functionality.
As part of anti-spam protection, the trial version allows you to send no more than 3 emails per day. To remove the limit and enable other features, you must activate Premium version for each domain mailbox. Read more
---
In case you did not find your answer contact us
Questions
---
Business Inbox Registration